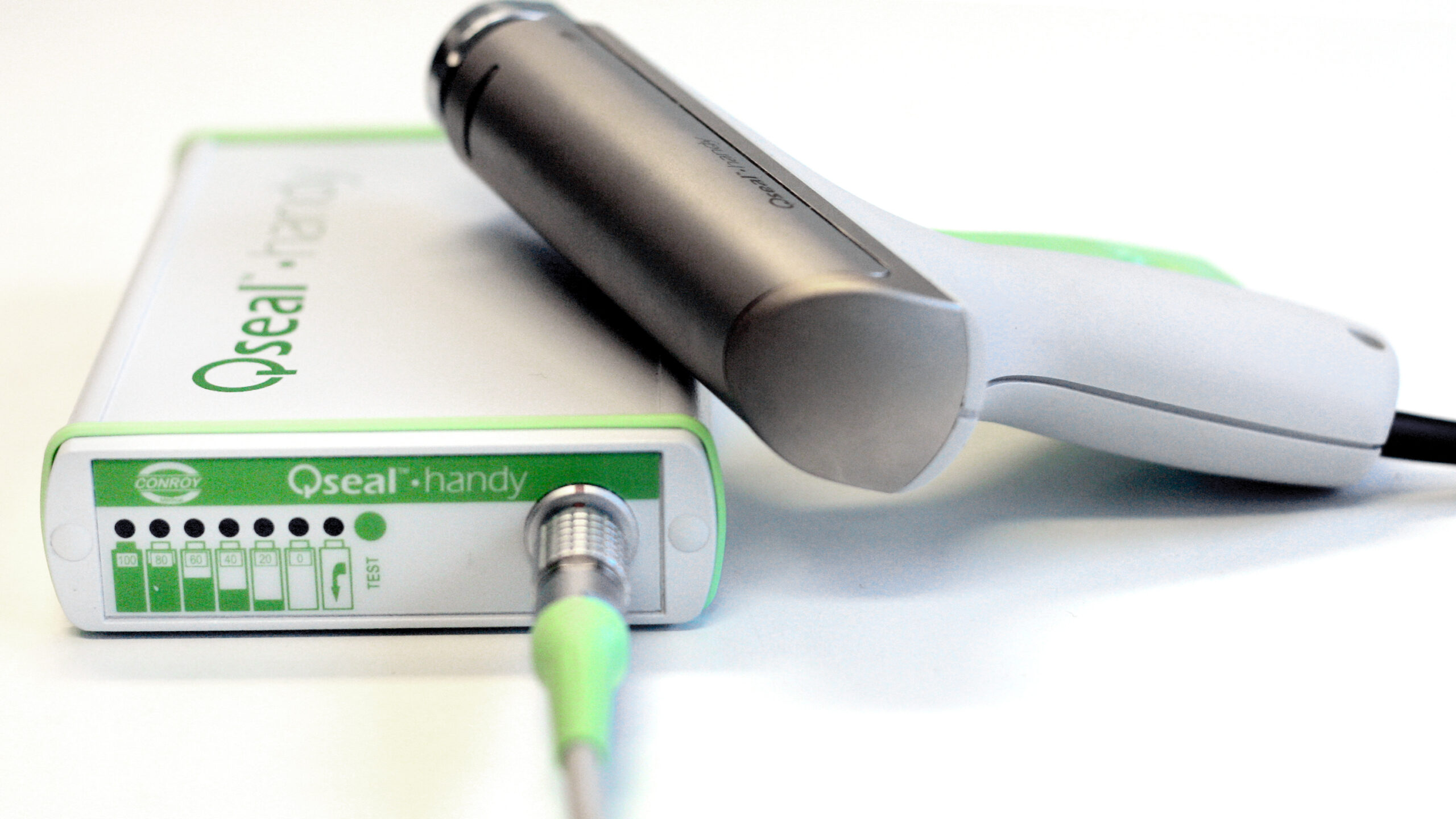 ---
Mobile and lightweight blood bag tube sealer
Qseal handy is a portable, battery operated blood bag tube sealer that is ideal for mobile settings. Even if the mobile sealer is lightweight, it has high capacity and a battery that charges fast. With this mobile sealer you will always be ready to make high quality seals on different kinds of tubing, and always with a fast sealing process.
Ergonomic mobile sealer
The RF welding machines intelligent sensing system will automatically adjust to tubing size and provide a perfect result every time. This high quality equipment has been awarded for its design and for the mobile sealer being ergonomic to use.
Qseal-handy; a complete sealing system, which includes:
Battery unit
Hand Unit
Battery charger and the
Operator's manual.
Safety
The Qseal-handy has a protected sealing area.
Can be used when the donor is connected to the tubing.
High quality
Automatically adapts to tubing size.
Fast sealing time.
High capacity per battery charge.
Easy to use
Automatic sealing process.
Portable.
Short time to recharge.
Easy to clean.
Download product data sheet
How long time does it take to charge the Qseal-handy mobile sealers battery?
It takes 2-3 hours for a full charge.
What type of battery is used in the Qseal-handy?
Lithium Ion
How many seals can Qseal-handy do per battery charge?
The Qseal-handy blood bag tube sealer can do 1500 seals per charges.
What tubes can Qseal-handy seal?
The Qseal-handy blood bag tube sealer can seal PVC tubes up to 6,2 mm in diameter.
Is the Qseal-handy mobile sealer available in my region?
We don't offer this on all markets. Please check with your local Conroy supplier.
Qseal-handy – a mobile light-weighted tube sealer with high capacity
Contact Conroy
Get in touch with us
Do you need more information about Qseal handy, or about our range of top-quality blood bag tube sealers? Do not hesitate to get in touch with us at Conroy, we will help you out!
Contact us at Conroy
Proud supplier to the Top Hospitals in the world
Conroy is a proud supplier of medical equipment to the top hospitals of the world. You can read all about those hospitals and their work in this Newsweek article.
Read more